Overview
In the setting of plantar fasciitis, heel spurs are most often seen in middle-aged men and women, but can be found in all age groups. The heel spur itself is not thought to be the primary cause of pain, rather inflammation and irritation of the plantar fascia is thought to be the primary problem. A heel spur diagnosis is made when an x-ray shows a hook of bone protruding from the bottom of the foot at the point where the plantar fascia is attached to the heel bone.
Causes
The cause of heel spurs is excessive strain placed on the plantar fascia over a long period of time, as a result of different factors. These factors include incorrect gait, being overweight, ageing or being in a job that requires a lot of standing on hard floors. It is usually a combination of any of these factors that will bring on the development of heel spurs.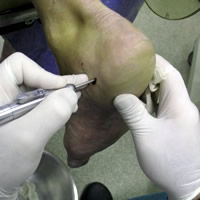 Symptoms
Most of the time heel spurs present as pain in the region surrounding the spur, which typically increases in intensity after prolonged periods of rest. Patients may not be able to bear weight on the afflicted heel comfortably. Running, walking, or lifting heavy weight may exacerbate the issue.
Diagnosis
Heel spurs and plantar fasciitis is usually diagnosed by your physiotherapist or sports doctor based on your symptoms, history and clinical examination. After confirming your heel spur or plantar fasciitis they will investigate WHY you are likely to be predisposed to heel spurs and develop a treatment plan to decrease your chance of future bouts. X-rays will show calcification or bone within the plantar fascia or at its insertion into the calcaneus. This is known as a calcaneal or heel spur. Ultrasound scans and MRI are used to identify any plantar fasciitis tears, inflammation or calcification. Pathology tests may identify spondyloarthritis, which can cause symptoms similar to plantar fasciitis.
Non Surgical Treatment
Ice and use arch support . If you can localize the spur, cut a hole in a pad of felt and lay the hole over the spur. This supports the area around the spur and reduces pressure on it. Massage the spur. Start gently with your thumb and gradually increase the pressure until you?re pushing hard directly on the spur with your knuckle or another firm object. Even it if hurts, it should help. Arch support. Build up an arch support system in your shoes. Try to equalize the pressure of your body weight throughout your arch and away from the plantar area. Use a ?cobra pad? or other device that supports the arch but releases pressure on the painful area. If homemade supports do not work, see a podiatrist about custom orthotics.
Surgical Treatment
Heel spur surgery should only be considered after less invasive treatment methods have been explored and ruled insufficient. The traditional surgical approach to treating heel spurs requires a scalpel cut to the bottom of the food which allows the surgeon to access the bone spur. Endoscopic plantar fasciotomies (EPF) involve one or two small incisions in the foot which allow the surgeon to access and operate on the bone spur endoscopically. Taking a surgical approach to heel spur treatment is a topic to explore with a foot and ankle specialist.